Leading Off
Spring Training is here, which means that the grainy cell phone pictures and mundane tweets from the Orioles beat have started cropping up. And we're hanging on every word. It's baseball time! With that excitement, we roll through the Drink of the Week and the TWotT (This Week on the Twitters):
Voice of the Orioles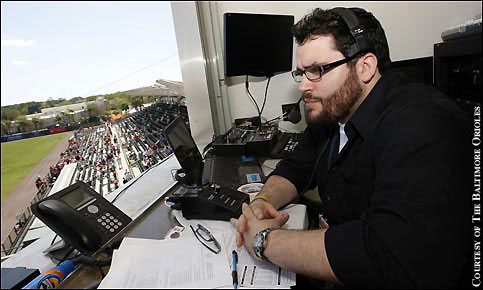 The guys catch up with Orioles PA Announcer Ryan Wagner to discuss a little bit of everything: the great Rex Barney, the perfect call, where to get a great bow tie, and a look behind the scenes at Camden Yards. We can't let the pit bull lover and active thespian get away without discussing his drink of the week, and weighing in on #BeatlesOrStones. His answer may surprise you!
Ryan tweets @rwags614, and is a must-follow for Orioles fans. Also, please consider the Kelsey's Ganémosle Program, which is a well-deserving program near to his heart.
Blowing the Save
Most podcasts try to end on a high note – the perfect coda to a quality program. That's just not our style. Each week, we'll end on a weak note, blowing the save with an item that didn't quite fit into the episode, or something they simply need to get off their chests. It's our version of taking the ball and pulling a Kevin Gregg.
Notes and Nags
Are you listening to the show on iTunes Stitcher? Are you subscribed? You totally should be! And while you're there, be sure to leave a review of the program. Love it? Hate it? Confused? Let us and other listeners know! As always, we appreciate the support.