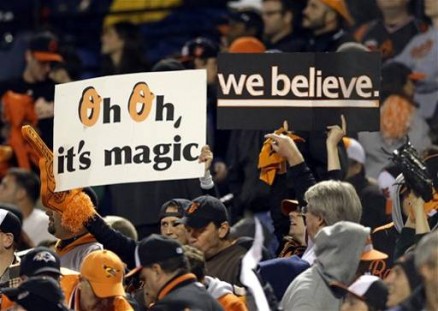 The season is still young Baltimore Orioles fans.  Just last year, the Orioles were a struggling .500 team all the way through June.  But…something is different this year.  Most folks would be quick to point out that the absence of certain players in the clubhouse, like Nick Markakis, may be making the difference.  But something bigger is missing so far this season.
Orioles Magic
Ever since the end of the 2011 season, the Orioles have had the ability to claw back into games and have a decisive moment that yielded victory.  Look back to 2012 with the 17 inning Red Sox Game or the Jones HR during the Ripken Statue Game.  There have been plenty of other big moments both in 2013 and 2014.  But, so far the 2015 season has been fairly vacant of big moments at the plate.
Reviewing the play-by-play analysis of the Orioles games for Win-Probability Added (WPA), the following top moments can be seen for the short season:
Adam Jones Hitting a Homer off Pineda to Give Orioles 4-2 Lead (.285 WPA)
Travis Snider 3R Home-Run off Drew Hutchinson to move score to 8-7 (.225 WPA)
Adam Jones Home-Run off Drew Hutchinson to tie game at 2-2 (.207 WPA)
All three of those moments resulted in Orioles losses due to problematic pitching.  The only moment that yielded some late inning heroics was the Chris Davis home-run in Boston that sealed a 4-1 win (.122 WPA).  Late inning heroics have been rare from this team so far, but they haven't been in the past.   Clutch moments are what make baseball exciting.  Since that 2011 season, the Orioles have been one of the best teams at delivering that magic.
Clutch has attempted to quantify a player's performance in high leverage situations.  Examination of the numbers from the past few seasons ranks the Orioles hitters as follows:
2012:  1.77 (6th in MLB)
2013:  5.09 (1st in MLB)
2014:  1.95 (4th in MLB)
2015:  -1.23 (Last in MLB)
The statistic is a nebulous one and can often fall into the "luck" or variance category that many like to attach to the Orioles.  The Angeles during the mid-2000's had a similar turn as well and often outperformed the projection models.  However, the value can often flip quickly and disappear into the abyss.  It certain seems like the Orioles have lost it.  The question is when or will Orioles magic come back?
Note:  This post originally appeared at Bird's Eye View.