With the scouting combine underway, the thing on every football mind is – who will be on the roster next season? Who has the most potential to make the team better? With the draft, trade-ups, and free agency on deck, sometimes the players we think have the most potential don't live up to their expectations. With the heartbreaking AFC Championship loss still fresh on our minds, this year might be the most crucial offseason ever for the Ravens. Let's hope these previous draft busts don't repeat themselves…
5) Dan Cody. Defensive lineman Dan Cody was selected in the second round of the 2005 NFL draft (53rd overall). He tore his ACL on the first day of training camp as a rookie, foreshadowing his injury-filled stint with the Ravens. Before he was released in 2006, he had horrible injuries including a broken foot and torn cartilage, which allowed him to only play a total of two games.
4) Tavares Gooden. Gooden was selected in the third round in 2008 (71st overall). His career as a linebacker under the Ravens' wings was complete with plenty of injuries, 52 tackles in '08 and '09 combined, and was demoted to a backup in 2010 before being released last year.
3) DeRon Jenkins. Cornerback DeRon Jenkins was drafted 55th overall in the second round in 1996. In the first four years of the Ravens' existence, he had only 202 yards and 2 interceptions, before signing on to play arena football in 2004.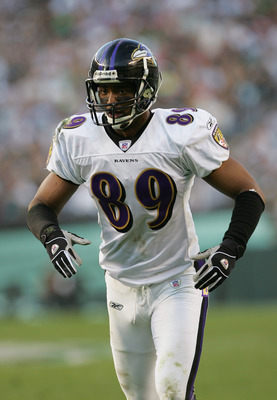 2) Travis Taylor. Taylor was drafted as a wide receiver in 2000, 10th overall and was envisioned as a number one player. However, his best season was in 2002 – 61 catches and 6 touchdowns.
1) You guessed it… Kyle Boller. First round pick, 19th overall in 2003. Everything you need for a franchise quarterback right? Not when you only throw 45 touchdowns in 5 seasons (Joe Flacco has had almost twice that in only 4 seasons with 80 TDs). Wait, it gets better. My favorite Kyle Boller stat is his 44 interceptions in 5 seasons. Read previous sentence, laugh, repeat.
Are you on Tumblr? Follow the BSR Tumblr for more of Lindsey's opinions, daily round-ups, fan interactions, photos, and more. Follow her on Twitter @lindseyyok.