After the 2013 season ended, I put together a wish list for the 2014 offseason. While looking for reasons to avoid feeling any feelings regarding this weekend's series that turned Wrigley into a Field of Screams, I revisited the wish list to see exactly where the Orioles stand now.
A Quick Recovery for Manny Machado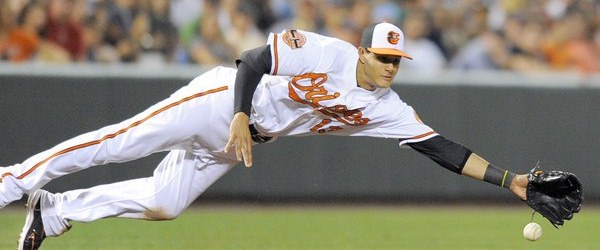 Oof, this one hurts. Here, we were just hoping the Manny Machado would make swift return to the Orioles, whether that be during Spring Training, or the early part of the 2014 campaign. At the time, we knew that this team needed Manny's glove. He was the reigning Platinum Glove winner, and had spoiled us with countless Web Gems.
What we didn't know was that we would need him in the lineup just as much. Once Machado got himself healthy and settled in, he became a presence in the #2 hole, allowing Buck Showalter to arrange his lineup in a way that could better absorb a lack of production from the bats who were supposed to be in the middle of the order.
So here we are again – hopefully Manny Machado will return to the Orioles quickly. Hopefully this injury will not linger, and hamper the 2015 team. We also hope that these knee injuries do not affect the player he can be in the future. Machado is poised to be a superstar, but if he cannot come back to 100% of what he has been, it could mean the return of a completely different (and less exciting) player.
Minimal Regression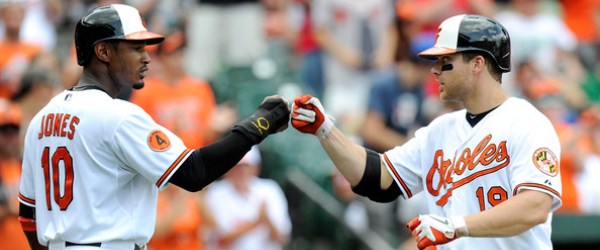 Double oof. My heart breaks on a daily basis for Chris Davis. This guy wants to contribute to this team, and he is simply unable to get it going. He passed the Mendoza Line ages ago, and has looked simply lost at the plate all season. Davis is swinging through fastballs he would have Crushed last year. He is also hitting nearly exclusively into the shift. We were hoping he his regression would be reasonable – no one could have expected this.
I also singled out Chris Tillman as a prime regression candidate. Though he showed signs of retreating back to the mean, he has put together a very solid second half of the year. He may not deserve the "ace" label, but he has been very, very good. More on that in a bit.
Another pitcher we have seen significant regression from is Brian Matusz. Matusz went from a reliever who stranded an astonishing percentage of inherited runners, to a guy who cannot be trusted outside of a lefty specialist's role. Matusz has struggled against righties, which has limited manager Buck Showalter's ability to trust him with multiple innings. This bullpen has been fantastic, but Matusz has gone from being a solid contributor to occasional liability.
Consistent Starting Pitching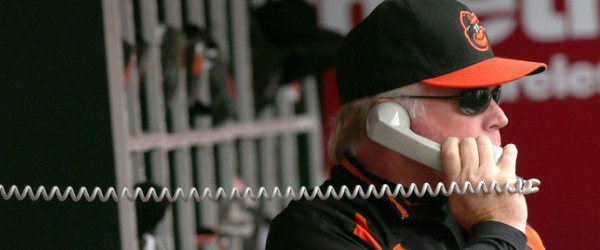 OK, we finally got one! The starting rotation was a question mark going into the season, but those questions have been answered. The one failure has been the $50 million man himself, Ubaldo Jimenez. Jimenez has been terrible, and has since lost his spot in the starting rotation. The other starters have been magnificent, particularly since June.
Miguel Gonzalez and Bud Norris, both contenders for that fifth rotation spot in the Spring, have proven themselves to be quality major league starters (despite the fact that Gonzalez's options keep working against him). Wei-Yin Chen has remained healthy, and has not shown signs of wearing down. Tillman has ditched his first inning problems.
Of all the Orioles' concerns, starting pitching is not one of them – this, without having a true ace, or having gotten much from their signature offseason acquisition. In this case, the truth has been stranger than any fiction we could have written in the offseason.
OBP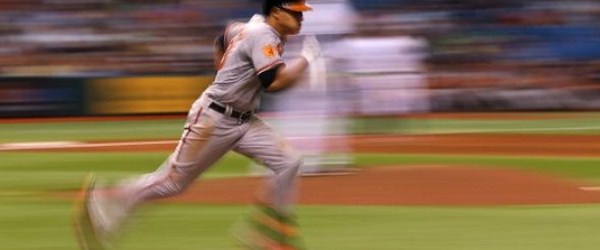 Here, I was hoping that the Orioles could be less dependent on the home run, get some guys on base, and manufacture some runs. Let's not get crazy and say that this offense that has contributed to a 73-55 record is a bad one. It is, however, completely dependent on the long ball. This weekend's Cubs series showed that very clearly.
This team still strikes out too much. You can thank Chris Davis for a lot of that. He has already notched 150+ before September. It also seems loathe to take walks. Adam Jones and Jonathan Schoop are good examples. Free swingers with little plate discipline. Fans can't complain with the results when it comes to Jones (who is quietly putting together another fine season), but the approach seeps up and down the lineup.
As it stands the 2014 Orioles have not been a patient team. They require mistakes in order to capitalize. Often, they make opposing pitchers pay with those "Baltimore Home Runs," but without mistakes, the offense can disappear.
Second Base Stability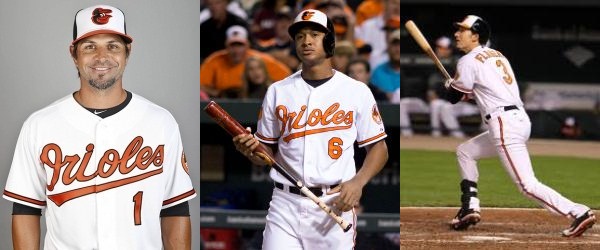 Well, second base has been… consistent? Jonathan Schoop and Ryan Flaherty have given the Orioles less than what the New York Yankees got from Brian Roberts – and they cut him. Flaherty is an incredibly important super-utility player, but has effectively squashed any thoughts of him becoming more. Schoop has shown himself to be a promising young player, but he is learning on the job, and his growing pains are painful for everyone involved.
Schoop's strong arm make him a great defensive weapon – particularly when paired with J.J. Hardy. Offensively, he has shown some pop (not to mention a taste for the big moment against the likes of Masahiro Tanaka). But the batting glove-less boy wonder lacks plate discipline, and always seems to be at 0-2 before an at bat has even begun.
Starting Left Fielder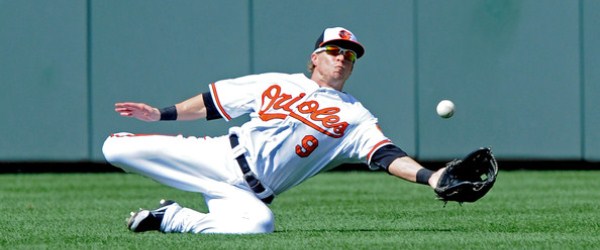 I warned you at the time that the O's left field solution would not impress you. In this, they did not disappoint.
The Orioles let the Nats overpay Nate McLouth, which has since looked brilliant. Unfortunately, they replaced him with David Lough. Despite Dan Duquette's assurances that Baltimore would love this guy, Lough has turned out to be a non-entity when it comes to contributing to a winning team. Lough is an expert defender, and a gazelle on the base paths. The trouble is that he has been unable to get on base, and has made some critical blunders while running – not a good showcase of his speed.
This has left us with the Nelson Cruz Left Field Experience, and at times, the Sure, Why Not Delmon Young? platoon. Thankfully, Cruz has proven himself to be just adequate (which undoubtedly, will help price him out of Baltimore in the upcoming offseason).
Looking back, how is this team in first place? In the offseason, I didn't bother to write down things like "don't let your starting catcher go down with Tommy John surgery." The 2014 Orioles might not be as lucky as the 2012 team, but their success is bewildering, considering that so few questions about the team were answered between November and now. Sit back and enjoy this ride – even if it makes no sense. The last stop may very well be an Orange October.