Now that the MLB playoffs have ended, it's time to put our head in the sand about the outcome, and turn our attention to the outlook for the Orioles 2014 season. It will be interesting to gauge the fans' expectations going into the new season. Before the magical 2012 campaign, no one knew to expect anything better (one of your idiot podcasters picked them to lose 100 games). Going into 2013, expectations were through the roof, and judging by the reaction to the Orioles' failure to make the playoffs, the bar seems to have been set on "playoff appearance or bust."
It's hard to expect greatness every year (particularly after having been conditioned to accept an inferior product for fourteen years), but when you consider the expanded MLB playoff format, playoff aspirations are not unreasonable for a team whose core players are in the prime of their promising careers.
With that in mind, 2013 showed us that the Orioles can't simply sit on their hands and hope that good fortune will carry over from one season to the next. Before 2014, this team must make clear improvements to take the next step. Here is a look at the Orioles off season wish list:
A Quick Recovery for Manny Machado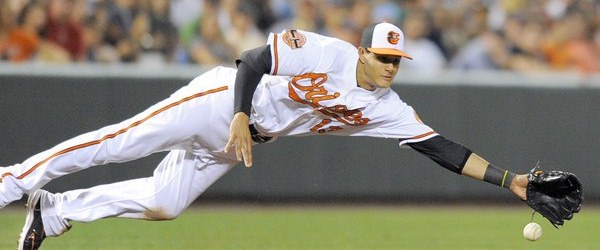 Machado's impact on this team cannot be overstated. The Gold Glove third basemen is a foundation of the team's strong defense. His play speaks for itself: is there any need to go through the various ways that he can change the momentum of a play, inning, or game with his glove?  Didn't think so.
Even in his early career development at the plate, he remains an impact bat and role player in the lineup. Before hitting a late-season wall, Machado was a doubles machine, and set the table for the heart of the Orioles order – guys like Jones and Davis… you may be familiar with their work.
Machado is expected to miss Spring Training and the beginning of the season. The best the Orioles can hope for is that his absence is short, and that he is able to continue his high level of play after returning. A slow recovery, or one that hampers his ability to return at 100% would be a meaningful detriment to the team's offensive and defensive capabilities.
Minimal Regression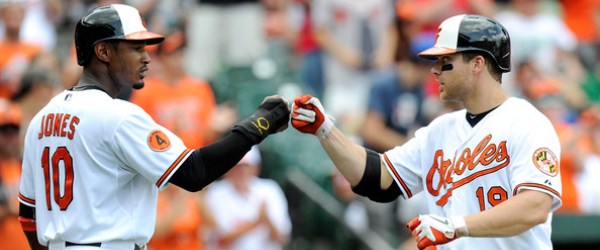 Let's face it, we may have wasted career years from Chris Davis and Adam Jones. We should expect at least moderate regression from both of them. These guys, firmly in the prime of their careers, had monster seasons. Jones may be able to come close to the same numbers next year (though it is far from a lock), but you have to figure that Davis reached his peak in 2013. The Orioles offense will have to make positive strides as a whole in order to warrant a playoff appearance. The last thing they need is to have to dig out of the hole of compensating for serious regression by these two.
Throw Chris Tillman into this discussion, as well. Cast aside the debate as to whether Tillman is an "ace," and focus on the fact that he showed that he can be a dependable front-of-the-rotation starter. He was the stopper during losing skids. He was the innings eater. He was an All-Star. If you care about such things, he turned in the starts to have won 20 games (the bullpen jobbed him). But we've seen this before. How many starters have we seen turn in decent-to-good years, and fail to back them up? Jason Hammel is a perfect recent example.
Consistent Starting Pitching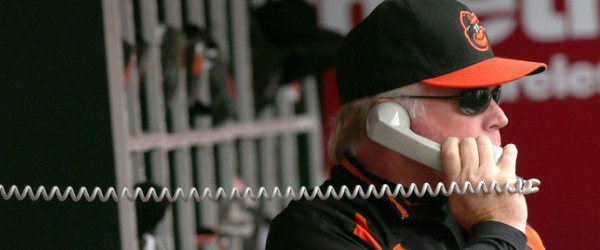 With the exception of the aforementioned Tillman, the O's 2013 rotation consisted of a bunch of 4 and 5 guys. Remember that this was the club who handed the ball to the likes of Freddy Gonzalez, Jair Jurrjens, Zach Clark, and Josh Stinson, That list is exceedingly… yikes. The guys that had been dependable in the past struggled a bit as well – due to injury or ineffectiveness, major questions were raised for Jason Hammel, Wei-Yin Chen, and Miguel Gonzalez.
Stud prospects Dylan Bundy and Kevin Gausman may turn heads, but remember: neither has proved anything at the major league level, and the Orioles have a terrible track record when it comes to developing talented young pitchers. It would not surprise me to see both start out in the minors (Bundy may not even crack the roster until September).
That means the Orioles are going to have to get the innings from somewhere outside the organization, either in the form of a top-of-the-rotation arm (though longstanding organizaional approach indicates the Orioles won't offer lucrative, multi-year contracts to pitchers. You can put any thoughts of Matt Garza away. Same is likely true for Ubaldo Jimenez and Ervin Santana.
Instead, expect the Orioles to make an offer to guys like Jason Vargas, Scott Feldman, or even Jason Hammel. Again the offer won't blow anyone away. Despite a clear need, the Orioles may roll the dice with a rotation made up of Tillman, Hammel, Chen, Gonzalez, Norris (with Gausman and Britton getting the ball next). Could be an ugly year on the bump, folks.
OBP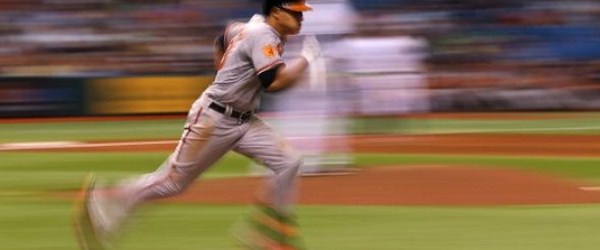 Sure, they could get some killer threads, but what the team really needs is to get some men on base. The Birds were 19th in the majors, with a .313 on-base percentage. It's also important to add that OBP does matter: eight of the top ten teams in OBP made the playoffs in 2013.
The Orioles shed a ton of strikeouts in 2013. Despite late-season frustrations, they were 6th in the majors in RISP. They led the majors in home runs. The Orioles had a LOT going for them offensively, but couldn't capitalize as much on those strengths, because so many good things were happening with the bases empty. The Orioles' offseason wish list should include bringing in new personnel whose toolbox includes OBP, and stressing a more patient approach at the plate for returning players.
Second Base Stability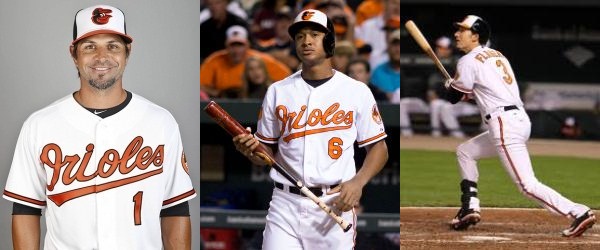 Jonathan Schoop is the second baseman of the future in Baltimore. What does the present look like? It is possible that the Orioles give him a shot to compete in Spring Training, but even so, will bring someone else into camp to compete, to keep him honest, and to serve as a fail-safe in case of injury or ineffectiveness. Big ticket guys like Mark Ellis and Brandon Phillips are too costly, in dollars and prospects. Internal options like Ryan Flaherty are in the mix, but may be required as a stop-gap for Machado's return to the field. All signs point back to Brian Roberts, in my opinion. Look for Roberts to return at a club friendly price. Unfortunately, this leaves the Orioles to play Brian Roberts Health Roulette again. Between Flaherty and Schoop, the club might be able to survive another Roberts injury, but the stability and consistent production the club needs is highly unlikely.
Starting Left Fielder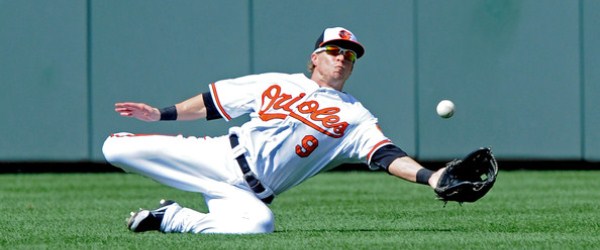 With Nate McLouth eligible for free agency, the O's have an opening in left field. Here are a couple of things you can forget:
Shin-Soo Choo. Sure his .412 on base percentage and defensive competence fit right in the Orioles' wheelhouse, but the underlying cost does not. Choo (a Boras client) figures to garner a monster contract. The O's arbitration-eligible players are going to make a lot of money, and big ticket spending will probably be minimal.
Jacoby Ellsbury. First, we couldn't wash the Red Sox stain off of him. Secondly, he'll be far too expensive.
A healthy Nolan Reimold. If you're hoping he's the answer, 2009 wants its optimism back.
Nate McLouth at 2 years/$10 million. That's his projected value, and the O's won't go that high.
If only we had a young promising player like L.J. Hoes in the system… Like it or not, the probable course of action is that the O's will go young/cheap/reclamation and hope for lightening in a bottle. They'll try to bring McLouth back at their price. They may go after an injury risk like Corey Hart. But the final solution at left field will not impress you.
Don't get me wrong: I feel that this team has a lot going for it, but it is a team with question marks and definite needs. We also have no way of knowing what budgetary constraints ownership has placed the baseball operations team under. During the off season, it will be interesting to see how Dan Duquette addresses each of these needs. The Birds' Executive VP of Baseball Operations seems to have won the confidence of the Orioles faithful, but with heightened expectations from 2012-2013, that could evaporate in a hurry.
Here's our list. What do you think makes the Orioles 2014 Off Season Wish List?