Leading Off
The show opens up with information on two great events:
Baltimore Sports Report Cornhole Tournament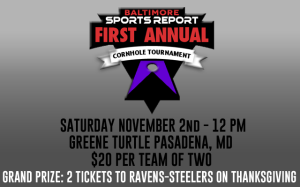 Come on out and take a shot at winning tickets to see the Ravens/Steelers game on Thanksgiving. Grab some drinks with the Baltimore Sports Report Network, and mock us for our lack of cornhole prowress. Don't forget – Bird's Eye View and Section 336 have a bit of a bet going on.

Also, Bird's Eye View will be hosting a portion of Carne Cabeza's Gobble & Guzzle. This Movember fundraiser is the perfect combination of good cause, and good fun. We'll be hosting the Gobble Wobble, a bar crawl downtown from 1-5 on November 23, 2013. Come on down and raise money for a good cause while having a few of your own Drinks of the Week.
Offseason Rambles
We run through some Orioles offseason notes:
Which of the Orioles' Gold Glove candidates will end up with new hardware in 2013?
Pitching coach search… yawn
Yea/Nay on Brandon Phillips
Arbitration figures and payroll
The Arizona Fall League
Fantasy Boss
With baseball season nearly over, the guys put their pride on the line one more time: With the Red Sox up 3-2, and the series headed back to Fenway, Jake takes the Cardinals in 7 (because he can't stomach otherwise) and Scott takes "easy money" with the Red Sox.
Who Will Own It?
Listen to BEV on iTunes!
You can find Bird's Eye View all over the web, including iTunes. Be sure the check for the show, and leave us all sorts of favorable comments and ratings. Flattery will get you everywhere, you know.