Here's what I've gathered in the past week from the national media: Baltimore is a terrible place to live, Joe Flacco completely sucks at playing quarterback in the NFL, and the Ravens have no chance to beat the Patriots. For one thing, I love living in Baltimore and, contrary to popular belief, I don't have to duck to avoid being hit by stray bullets every five minutes. Another thing – Joe Flacco doesn't have the stats of Drew Brees or the arm of Aaron Rodgers. But where are Drew Brees' stats? Closed until next season. And Aaron Rodgers' arm is resting on the armrest of his sofa while he watches the championship games on his plasma tv (sorry, Aaron). As for the Ravens having no chance of beating the Patriots… let's just take a break from the Ravens-hate field day and look at a few facts, shall we? :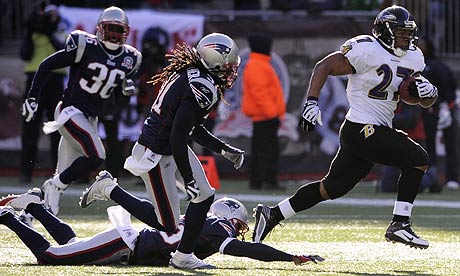 5) Let me just get this one out of the way. Sunday is Ray Rice's 25th birthday. Nothing says "Happy Birthday Lil Ray" like a trip to the Super Bowl. This team loves Ray Rice. You've seen them win a crucial game for their coach on a special day, they're bound to do it again for Ray.
4) Now we'll get a little technical. Tom Brady's past two QB ratings against the Ravens? 69.5 and 49.1. He also whined a lot. Last time Joe Flacco played the Pats? 119.3. (Side note: And remember that time the Ravens beat the Pats 33-14 in '10? That was the game where Joe had that hip contusion, only went 4/10, and didn't whine about it.)
3) Baltimore ranks first in the NFL for postseason interceptions (32 since 2000). Also in first? Baltimore's interception return yards (552). In 2010's playoff game in New England, the Ravens intercepted Brady three times. See also: Lardarius Webb/Ed Reed.
2) Ever hear that saying, "Defense wins championships?" The Pats are ranked 31st in the league in total defense. The Ravens are ranked 3rd.
1) The Patriots had a piece-of-cake schedule this year, only playing TWO playoff teams who finished the regular season with a winning record (including the 8-8 Broncos in their only other postseason game). Those two teams were the Steelers and the Giants. Guess what? They lost both games. The Ravens played 7 games against playoff teams (including the postseason) and won every last one. (Before you call me out – the Ravens did lose to the Titans, who finished 9-7, but they did not make it to the postseason.)
So if you're one of the five people on the planet who picked the Ravens to win this Sunday, I salute you. If you picked the Patriots, that's fine too – just make sure next time not to rule out the underdog. It's going to be a close one, no doubt, and the Ravens definitely have their work cut out for them. But I have a feeling the football world is going to be taken by surprise on this one. Stay warm if you're in New England, stay alive if you're in Baltimore, watch the tv closely (for once) if you happen to be elsewhere. Go Ravens!
Are you on Tumblr? Follow the BSR Tumblr for more of Lindsey's opinions, daily round-ups, fan interactions, photos, and more. Follow her on Twitter @lindseyyok.