At times, Baltimore fans are like high schoolers – they want the coolest friends, the newest gadgets. What they fail to realize is that the cell phone they have does its job, and their friends are good friends -regardless if they are head cheerleader. Joe Flacco is not Tom Brady, Drew Brees, or Aaron Rodgers. He does not have a perfect quarterback rating, or outstanding stats for that matter. But he does his job, and he is good at what he does. While there is room for improvement, he does not get enough credit.
People seem to overlook the fact that he has the most wins of any NFL quarterback in four years. Also, keep in mind, none of the current Ravens wide receivers or tight ends had been on the roster prior to 2010. While he is not Rodgers or Brees, he is also not any of the following quarterbacks – and, Baltimore, you should be thankful.
5) Josh Freeman. Tampa Bay was one of the most disappointing teams of 2011. The Bucs went from a 10-6 record in 2010, to a 4-12 record this season. Aside from Freeman's poor decision-making skills (throwing at all the wrong times, to be exact), he finished the season with more interceptions than touchdowns (22-16).
4) Colt McCoy. The most impressive game McCoy played this year was against the 2-14 Colts. And he only managed to throw one touchdown. In his defense, the Browns are just a plain mess (especially on offense) and need to make some bold moves in the offseason.
3) Rex Grossman. This hits close to home (literally), but the Redskins need to do something if they want to be a winning team again, ever. Is it possible to wipe out an entire team and call a do-over? Grossman is another quarterback who had more interceptions than touchdowns this season (16-20), and the remainder of his career will most likely result to a third-string backup.
2) Tim Tebow. Yup, I'm saying it. This is my favorite Tebow stat: 8 completions against Kansas City in two games. Getting to the playoffs the past 4 years by working hard and winning games? Or getting there by default with a 46% completion percentage and an 8-8 record? You decide. Also, can you imagine Flacco praying or singing hymns on the sideline? 'Cause I can't.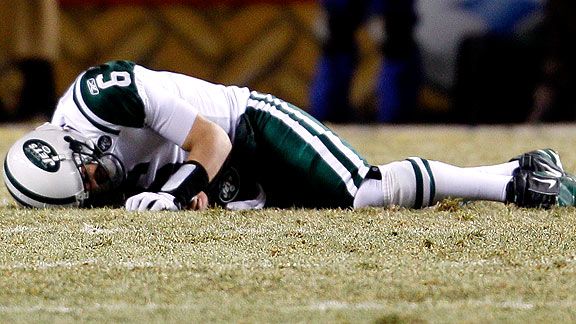 1) Mark Sanchez. Look up "regression" in the dictionary, and you'll probably see this picture. Sanchez was on his way up, getting to the AFC Championship for two consecutive years. Horrible throws and bad decision-making, however, led Sanchez to being a disappointment for Jets fans everywhere. Sounds like somebody needs to stop posing for GQ and work on their skills.
Next time you feel the urge to call your favorite local sports talk radio station to complain about Joe Flacco   and/or give your reason why we need a new quarterback – thank your lucky stars that none of these men are on our roster. That being said, I hope everyone has a great weekend of stress-free football!
Are you on Tumblr? Follow the BSR Tumblr for more of Lindsey's opinions, daily round-ups, fan interactions, photos, and more. Follow her on Twitter @lindseyyok.