On Sunday, Adam Jones signed a six-year contract extension paying him $85.5 million. For the Orioles the decision to lock up Jones at this price through 2018 was a no-brainer for two reasons:
The price tag for Adam Jones was only going to go up the longer the Orioles waited to sign him.
The contract doesn't assume he'll be any better in the future than his career averages so far.
After the jump we'll explore these aspects of the contract in more detail.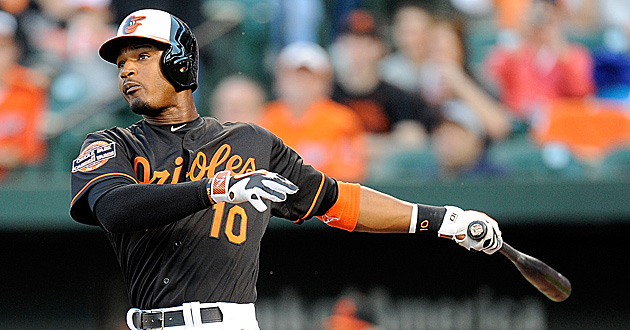 Jones was only going to get more expensive. Ideally the Orioles would have signed Jones to a much smaller contract extension before the season. Joe Sheehan believes that the Orioles could have locked up Jones for as little $44 million over 4 years prior to the season and I'm inclined to believe him. However, the front office opted not to extend Jones. Since then Jones has been the best offensive player on the Orioles, performing like a slightly watered down version of Matt Kemp. If Adam Jones sustains his performance all year, he would be looking at a contract extension of ~$130 million. Furthermore, given what Jones has achieved this season he would be looking at a $10 million dollar salary in arbitration for 2013. So, in reality the front office is locking Jones down from 2014 through 2018 for $75 million. Given the way MLB teams have been spending money on free agents and contract extensions recently that seems extremely affordable. At a performance per dollar basis Jones will be significantly cheaper to the Orioles than Joey Votto will be to the Reds on his 10 year/$225 million contract extension that was signed this spring.
If Jones simply produces at the rate he has done throughout his MLB career, the contract will not be a burden to the Orioles. Clearly, the front office believes Jones will become a better player than he has been in the past and so far this season he has been. While Jones is not making any improvement at swinging at pitches outside of the zone, he is making more contact when he swings and those batted balls are going further than they have previously in his career. This is not unexpected, as the graph below shows at age 26 Jones is at his peak in terms of batted ball production. While Jones may maintain some of this ability in the near future, fans should expect his power numbers to decline towards the end of his new contract. However, Jones can makeup for this decline by addressing his most fatal flaw: swinging at pitches outside of the strike zone resulting in a poor walk rate. Simply put, walks and shuffle board are both the games of seniors. Almost all players learn to be more selective as they acquire more experience at the plate and get better at recognizing which pitches to offer at. Most past players who have shared Jones struggles to walk have been able to walk at league average levels when they ended their career. There is no reason not to expect this improvement from Jones and it should offset his decline in average and power to a large degree.
Given these two reasons there was no reason for the Orioles not to extend Jones at this price. He was only going to be come more expensive and he doesn't need to become a different player to be worth the contract. Andy MacPhail should be given credit for acquiring Jones and giving the Orioles this opportunity but Dan Duquette also deserves significant praise for locking up Jones for the future at a no-brainer price.