You can't always get what you want. It's a well-known phrase, and one that seems to define the 2014 offseason for Orioles fans.
Personally, I wanted the O's to bring back Brian Roberts. I understand why they didn't, but I would have liked to see #1 run down the Orange Carpet on opening day. Part of it is the emotional attachment. Like many fans, Roberts was a favorite of mine. Whether it was his boyish good looks, his propensity for hitting doubles, or his get-your-uniform-dirty enthusiasm, I loved watching him play. He was the only bright spot on a lot of bad clubs. And I wanted those clubs to win.
But none of that happened the way I wanted.  They didn't bring him back, and if he had to end up elsewhere, I didn't want him to end up on a hated rival's roster. I certainly didn't want him to end up in New York, in the void Robinson Cano left behind. For the second time, I didn't get what I wanted. Brian Roberts was a Yankee, and I hated it.
Even worse, I knew that there would be a moment when Roberts was introduced to the crowd at Camden Yards.
Now batting for the Yankees, second baseman, number one, Brian Roberts
I don't want to have to live through watching Baltimore boo Brian Roberts. And I don't want to be tempted to boo him. I just can't handle that. Baseball is supposed to be fun. It's not supposed to crap on your heart.
What I really didn't want was Brian Roberts to make it easy to root against him. But he did. Consider:
Ugh. So let's review:
The Orioles cast off one of my favorite players
That player got picked up by the team I hate most
Now Brian Roberts is saying "all the right things" in New York, which fills me with rage
The Orioles did NOTHING else in free agency to distract me from the situation
No, you can't always get what you want. But in this case, couldn't the universe throw me a bone?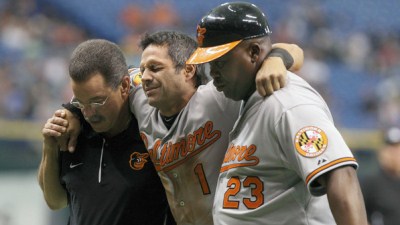 I also don't want THIS to make me feel better…