Despite recent signs, and the general feeling that Debbie Yow needed a change as well as Maryland needed a new AD, Yow's departure has come as a pretty big surprise. Will she be missed? Some say yes and some no with the latter of that coming from the fans and media alike. Yow has had a great tenure at Maryland winning 20 national championships, but its the big time programs, football and basketball, that seemed to suffer a bit as a result of Yows commitment to "spreading the wealth."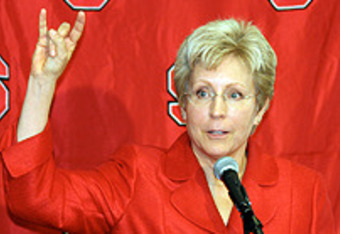 Being the first woman ACC AD came with strikes against her. Could she live up to the job? Was she tough enough to rebuild the Athletics department of a major university? Basketball was well on its way to a turnaround (thanks to Williams) but Maryland's Football program was nonexistent. Women's sports were just filling space and had no direction. Yow did bring respectability to Field Hockey and Women's Basketball, but do they bring in money for the program? They are the sports that "keep the lights" on in the department and that's just barely.
Yow cut budgets and brought in big names for smaller programs such as soccer coach Sasho Cirovski and lacrosse coach John Tillman, but its the bigger names in Friedgen and Williams that she seemed to have the most trouble with. She had burned her bridges enough and with the recent announcement of Maryland president Dan Mote, she felt her time had come to an end. Good thing as the coming president may have other ideas and she may have been first on the list to go. Yow's underlying attempt to have Friedgen bought out and constant quibbles with Williams the past few years has tainted her legacy.
Her behind the scenes attacks does nothing but cause others to grade your tenure on the job. Gary Williams had nothing bad to say, but he had nothing good as well. For a time at NC State, fans will love her and her promises, but if her present job is any indication of whats to come, the Wolfpack faithful will soon be disappointed.
If you'd like to read John Feinsteins take Yow, click here.