Jonathan Schoop has recorded four errors this season. All four of them have been at third base. You could argue that he's playing out of position. And that's fair, but three of those four errors are on throws.
On Sunday, Schoop allowed the tying run to score on a throw that moved Matt Wieters away from the plate while Grady Sizemore came in to score. That was bad, but this one was probably worse: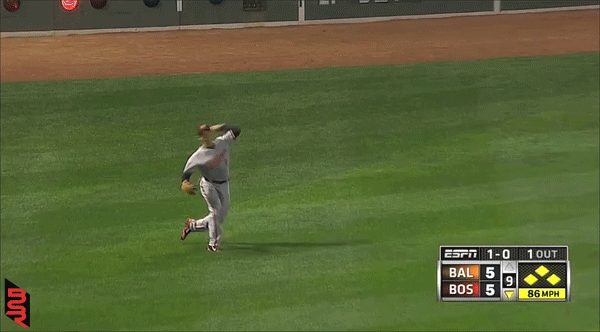 Unfortunately, David Lough was charged with an error on that throw, even though Schoop jumped out of the way of it. Take a closer look:
Schoop admitted after the game that he should have cut off the throw. In my opinion, it looked like Lough was attempting to throw to Schoop to tag Dustin Pedroia. Whatever the case, that was Schoop's ball to catch.
Jonathan Schoop is not a 3B. Doesn't know that read well. Tough one to lose.

— CJ Nitkowski (@CJNitkowski) April 21, 2014