Leading Off
With FanFest come and gone, it's time to settle in and wait for the hot stove to kick into high gear. The Orioles are still waiting to hear back from their number one target, as we hear in the Chris Davis Watch. Meanwhile, Orioles fans simply hope that they won't end up with a lump of coal in their stockings for Christmas. And yes, we mean David Lough.
Join us for a Drink of the Week, and let us know what's on your bar tab. Look for us on Untappd at jakee4025 and magn8606.
This Week on the  Twitters
ICYMI: Hoping to hear #Orioles fans serenade Kim Hyun-soo with his cheer song this season pic.twitter.com/vqxQasnHVA

— Dan (@MyKBO) December 17, 2015
Hyeon-soo Kim in Baltimore. pic.twitter.com/aiVTJuWfwA

— Dan Szymborski (@DSzymborski) December 17, 2015
Who's your #ManCrushMonday? Ours is Santa #GetYourDrinkOn #Baltimore #HappyHour https://t.co/8BqtusKvey pic.twitter.com/kpryLK7upv

— Drink Baltimore (@DrinkBmore) December 21, 2015
The Orioles bullpen suggests that maybe the most important thing in pitching is being different. Need to try & cut out the middle for study.

— Eno Sarris (@enosarris) December 15, 2015
Tweet! Tweet! Is this thing on?

— The Oriole Bird (@OrioleBird) December 9, 2015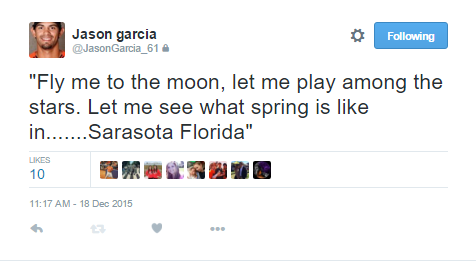 I tried to find the best non-Baltimore home for Chris Davis, and, well, this wasn't where I expected going into it: https://t.co/HAYoY3dD1Y

— Mike Petriello (@mike_petriello) December 19, 2015

FanFest was last weekend (yes, really), and though the attendance was a little light (~11,500) compared to years past, the atmosphere was still electric. Scott and Jake share their thoughts on the event, including:
Attendance
The role of Brady Anderson
The wisdom of the opt-out contract structure
The wisdom of putting all your eggs in Chris Davis' basket
The fate of post-game pies
FanFest MVP?

Chris Mitchell of Fangraphs stops by to talk to us about the KATOH projection system, which he developed to produce long-term forecasts for players who are still in the minor league phase of their careers. His recent article on Fangraphs details the Orioles minor league system, and tells us where our baby birds rank within the system, and how that compares with other organizations.
Other topics include the benefits/pitfalls of being an Orioles or Yankees fan, and what kind of pizza Alex Rodriguez would eat at 4:00am. It's Bird's Eye View: we leave no stone unturned. Check Chris out at Fangraphs and on Twitter @_chris_mitchell.
Blowing the Save

Most podcasts try to end on a high note – the perfect coda to a quality program. That's just not our style. Each week, we'll end on a weak note, blowing the save with an item that didn't quite fit into the episode, or something they simply need to get off their chests. It's our version of taking the ball and pulling a Kevin Gregg.
Your Turn
Love it? Hate it? Confused? Let us and other listeners know! As always, we appreciate the support.
Please leave us a review on iTunes and Stitcher. Get connected with us on social media, click below to find us on social media.