Leading Off
Reports from Sarasota are picking up speed. Games are on TV and radio… it's really happening! Having baseball to talk about is way better than having not baseball to talk about. Welcome back, baseball, you have been missed. The guys dispense with the usual pleasantries (the Medical Wing, Drink of the Week) before heading into the TWotT:
Spring Training: A Snore from 34
Spring Training is upon us… what exactly do we make of it?  From the last out of the season, we mark our countdown to the moment baseball activities will begin again. We anxiously talk about the report date for pitchers and catchers – a date when, let's face it, noting really happens.
To bring a level head to the discussion, the guys turn to FoP, Matt Taylor of Roar from 34. Read Roar from 34 religiously, or else you're a bad Orioles fan. Also follow him on Twitter @roarfrom34.
Spring Training, Does It Matter?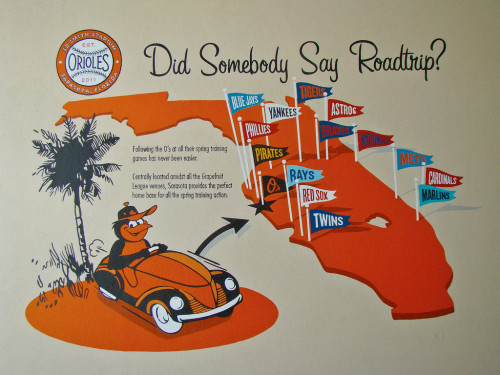 Spring Training has often been referred a "worthless" and of "no value".  Jake and Scott talk about which statistics may be of value to examine when watching Spring Training.
The Good, the Bad, and the Ugly

Our favorite segment makes its triumphant return, despite the fact that there is nothing much going on… In the Whose Line Is It Anyway vein, when it comes to Spring Training, "the rules are made up and the points don't matter."
That being said…
Who had a great week? Who had a tough week? Who made us ashamed to be Orioles fans? Find out in this week's GB&U. The guys run through their Good, Bad, and Ugly for the week. Be sure to drop us a line and send us yours.
Blowing the Save
Most podcasts try to end on a high note – the perfect coda to a quality program. That's just not our style. Each week, we'll end on a weak note, blowing the save with an item that didn't quite fit into the episode, or something they simply need to get off their chests. It's our version of taking the ball and pulling a Kevin Gregg.
Notes and Nags
Are you listening to the show on iTunes Stitcher? Are you subscribed? You totally should be! And while you're there, be sure to leave a review of the program. Love it? Hate it? Confused? Let us and other listeners know! As always, we appreciate the support.