Leading Off
This is our last episode before Opening Day. By the time we fire up the microphones next week, the Orioles will have played their first regular season game – a 3:10 game at the beautiful Tropicana Field. As such, we'll re-live the magic of the Spring, and… oh, who are we kidding? Hurry up, and get here quick, April! What is your Drink of the Week? Make sure you are following us on Untappd, and let us know how you are getting yourself through baseball season. Look for jakee4025 and magn8606. Medical Wing
J.J. Hardy will apparently miss Opening Day with a subscapularis strain. The Orioles are downplaying the severity (this is actually a good thing, because surgery isn't necessary)… but there is definite worry in among fans. The only positive to take from this is that it makes certain roster decisions easier. Let's just hope it doesn't cost ballgames early.  
David Lough has been out for the last several days, with back spasms, and appears headed for the DL. The injury could not have come at a worse time for Lough, whose roster spot is in question, given the number of outfielders (plus Everth Cabrera, who has been getting time in center) in camp.
Much to the chagrin of agent Scott Boras, Matt Wieters will start the season on the DL, rather than serve as the team's designated htter. Wieters is recovering from tendonitis, a setback on his recovery from Tommy John surgery. What remains to be seen is how quickly and completely Wieters can come back in this, his walk year.
This Week on the Twitters (TWotT)
It's time for Vin Scully's 66th season. pic.twitter.com/yVDpBIw5RU — Los Angeles Dodgers (@Dodgers) March 28, 2015
My season preview for the Orioles is up on @baseballpro: http://t.co/xQbKRIzUZo Think of it as a condensed version of my Annual essay — Jeff Long (@BSLJeffLong) March 26, 2015
YOU CAN'T MAKE ME. RT @Deadspin: Updated AP Stylebook says to stop using "dingers" and "jacks" to mean home runs: http://t.co/g1wc8oqUOW — OLIVIA witherite (@Oliviawitherite) March 27, 2015
The biggest takeaway from the statement by the union is that there is growing tension between the sides, on this and other issues. — Ken Rosenthal (@Ken_Rosenthal) March 30, 2015
There's baseball in a week, people. — Cespedes Family BBQ (@CespedesBBQ) March 29, 2015
Spring Training Wrap Up with Pete Gilbert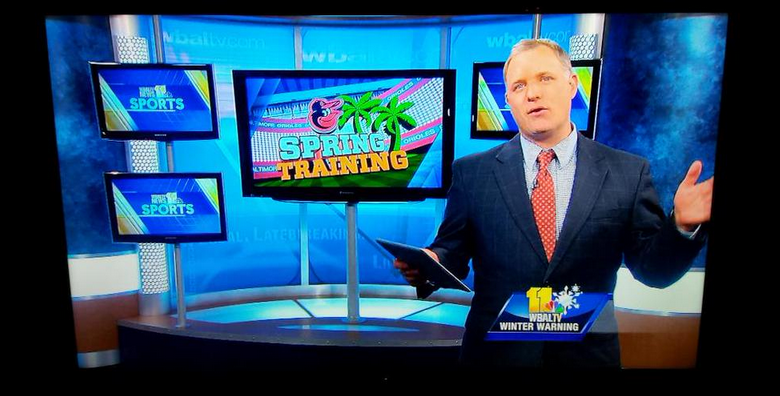 Pete Gilbert of WBAL joins us to look back at the 2014 season, put a bow on Spring Training, and look ahead to what the 2015 Orioles season has in store.
Pete can be found on WBAL TV and radio. On the interwebs, best to catch him on Twitter @WBALPete.
What's in a Number?

MASN aired the 2131 game on Saturday night, and we watched while trying to figure out where all the dust was coming from. It's hard to believe that night was nearly 20 years ago. The night was as much about the man, as it was about the numbers, but the numbers were clearly significant.
Watching Cal Ripken Jr. speak in the post-game ceremonies, with his proud parents just behind, we couldn't help but wonder: why on earth haven't the Orioles officially retired #7, in honor of the man who developed countless ballplayers in The Oriole Way?
Tip of the cap to NumerOlogy – we miss you.
Blowing the Save
Most podcasts try to end on a high note – the perfect coda to a quality program. That's just not our style. Each week, we'll end on a weak note, blowing the save with an item that didn't quite fit into the episode, or something they simply need to get off their chests. It's our version of taking the ball and pulling a Kevin Gregg.
Your Turn
Love it? Hate it? Confused? Let us and other listeners know! As always, we appreciate the support.
Please leave us a review on iTunes and Stitcher. Get connected with us on social media, click below to find us on social media.