Leading Off
Fresh off a depressing week of Orioles baseball, we head directly to the Drink of the Week. Afterward, we check in on The Brian Robert Watch (#TheBrianRobertsWatch), and the Medical Wing:
Nolan Reimold
Wilson Betemit
Jason Hammel
Steve Pearce
News & Notes
There was plenty of action on and off the field this week. As usual, the guys cover the important stories:
Michael Morse joins the team
Magness family dong chant
September call-ups
Are the Orioles Fading?
Jake makes the case that the Orioles are fading:
The O's are losing blowouts.
They're losing shootouts.
They're losing pitching duels.
Not enough hitting, not enough starting pitching, unreliable bullpen. Nothing is coming up Millhouse. In the stretch run, we said that the Orioles would prove their mettle – asserting that they belong in playoff contention. Instead, they've lost series to their AL East foes, and have effectively removed themselves from AL East contention.
Scott points out that all is not lost. In his own… special way.
Strange that the guys seem to have switched roles – the Orioles Optimist and the Orioles Cynic.
Buckle Up (Again), Birdland. September is going to be a bumpy ride, full of meaningful games.
On the Road Again: Carne Cabeza
The guys welcome Carne Cabeza to the show to talk Orioles fandom, wearing a cape, and a recent experience on the road in Yankee Stadium. Carne is a true Orioles fan, and a fixture at Camden Yards (and M&T Stadium). If you've seen him, you know it. He's the shirtless Orioles/Ravens luchadore, with more passion for Baltimore sports than sense or shame. Which is awesome.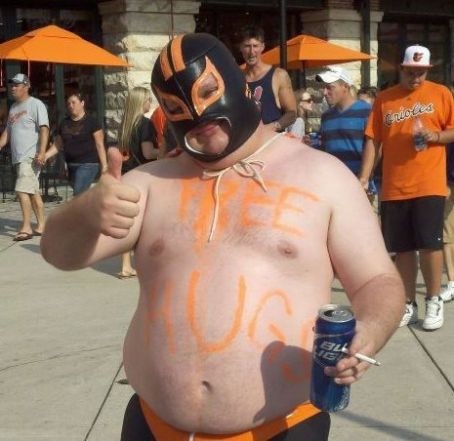 Carne talks about dealing with notoriety, the origins of his costume, and how well (or not) it was received in Yankees Stadium this past weekend. Check out Carne at his website, and be sure to listen to his podcast, Baltimore Bad Birds.
Fantasy Boss
YOU GUYS! SCOTT WON FANTASY BOSS THIS WEEK! Jake totally got all snooty about it, until Scott brought him back down to earth. Chris Davis out RBI'd Adam Jones (4-3), which meant that Scott got to pick his own stat for this week: BABIP.
Jake went with Manny Machado.
Scott took Chris Davis.
Who will own it?
The Good, the Bad, and the Ugly
Who had a great week? Who had a terrible week? Who made us ashamed to be Orioles fans? Find out in this week's GB&U. The guys run through their Good, Bad, and Ugly.
Listen to BEV on iTunes!
You can find Bird's Eye View all over the web, including iTunes. Be sure the check for the show, and leave us all sorts of favorable comments and ratings. Flattery will get you everywhere, you know.