Since he retired from baseball, Cal Ripken has been asked the same question over and over:
So Cal, when are you coming back?

Ripken needs no introduction in this piece: he's a Baltimore icon. As hometown fans, we often forget that he is also a baseball icon – one whose return to the game is just as impatiently anticipated across the country. Fans have a hard time parting with players like that. They assume that the player simply cannot be away from the game, and they assume that greatness on the field will translate to greatness in other roles: coach, manager, executive.
So Baltimore fans, how bad do you want to see Cal Ripken back in baseball? The answer should be "please, not now."
What happens if he fails?
Ripken is an Oriole legend. Before the 2012 season, he was the last remaining link with the franchise's glory years. When people asked what
was good about the Orioles, you could always say "we had Cal Ripken." A local product, the epitome of class, and a hell of a ballplayer. These are all things we could brag about.
So… what happens to Ripken's legacy if he were to manage a losing Orioles club? Being a terrible manager (or at least one with a hard-luck poor record) would be a tough pill to swallow for this fan base. Ripken is an untouchable. It wouldn't be fair to put us through losing and having to criticize Ripken's managerial choices.

And what if the organization had to fire him? How uncomfortable would that be… for everyone involved?
The danger of bringing Ripken back is that nobody wants to risk him not being any good at it.
What if he goes somewhere else?
Buck Showalter will be the manager of the Baltimore Orioles at least until the 2019 season. And believe me, we have got it good. If there is no opportunity in the orange and black, how would you feel about Ripken wearing another uniform? While you recover from that terrible image, let me share this little nugget from CSN, discussing the possibility of Cal replacing former Oriole Davey Johnson in the Nationals' dugout:
On the surface, it makes sense. Cal is as beloved in Washington as he is here – even for the baseball fans down there who hate all things Orioles and Angelos. Ripken is different. That fan base would love to call him their own.
But he's not their own. He's ours. He grew up here. He "saved baseball" here. And he belongs here. For Cal, it's just business. But for us, it would be personal, and it would hurt. I've always thought that Ripken would bypass the manager's office. As part of the ownership group and executive team at Ripken Baseball, he's proven himself to be a competent business man. It's always been my assumption that Ripken would return to baseball – and to the Orioles – as an executive or owner.
Keep in mind that Ripken is cautious – he would never jump into an arena where he didn't feel comfortable (remember him sitting in the booth asking Thorne for advice before making his first appearance as a broadcaster). He puts himself in positions where he can be successful – far removed from catching the last out in the 1983 World Series, this guy hates to lose. All this talk might be a result of Ripken very carefully saying that he wouldn't rule out a move to the dugout – it's always better to be asked than not.
And that, Baltimore, is our best hope. Let's hope that Ripken is content to wait. Because right now, there is no room at the inn for him. And I'm not sure we can stand seeing him go somewhere else.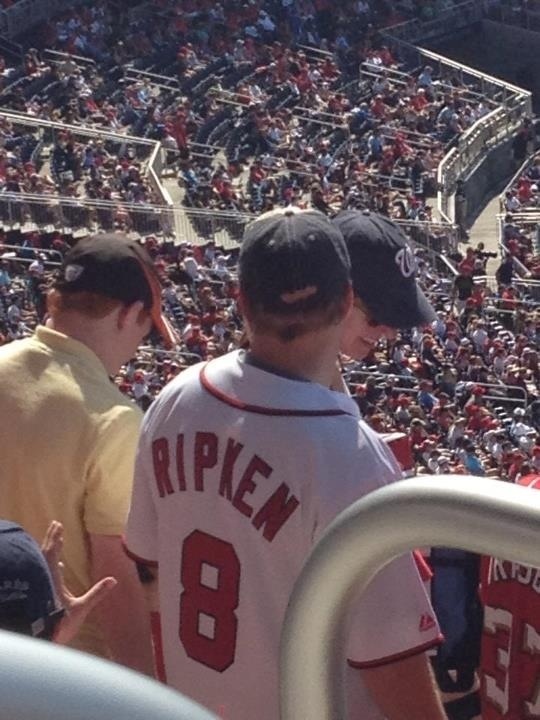 Follow Birds Eye View on Twitter and listen to Birds Eye View on the Baltimore Sports Report Network.